July 11, 2015 | Allan Delmare
More on Labels!
Ever wondered why we have different labels on different bottles? Don't fret! Here's a simple guide to which labels we have and why we use them:
"Barrel Label" – Originals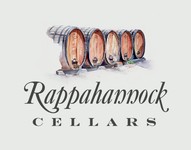 Back when we lived in California and operated our Saratoga winery in the Santa Cruz Mountains, there we these large, 100+ year old casks lined up in front of the tasting hall. They were painted (along with many vineyard scenes found on the walls of our current tasting room) by longtime family friend Maggie Blackwell of Maggie Blackwell Fine Arts, and used in the creation of our first wine label here in Virginia. Retired in 2006, this image is well loved and …someday… might even see a return in the future for special releases.
"White Label" – Classics
Since our first vintage in 2000, we've produced a consistent "core" lineup – the "staples" or "gold standard" of Rappahannock quality - and these quality wines are represented by our white label with the red "R". The lineup includes favorites which we have always been known for such as Chardonnay, Viognier, Cabernet Franc, and Meritage.
"Vintner's Select (VS)" – Variations
As our interests and production capabilities have evolved, we've adopted a wide range of winemaking techniques used around the world to showcase regional styles and varietal expression. Wines can be dry or sweet; aged in oak barrels or stainless steel tanks; malolactic fermentation can be encouraged or prohibited…the fermentation, aging, and yeast choices are endless! So while or "Classic" Chardonnay is medium-bodied, creamy, and mildly oaked for a rich and luxurious mouthfeel often associated with California-styled Chardonnays, our "VS" Chardonnay is aged in stainless, malolactic is blocked, and the wine exhibits the more delicate crispness and fruit of those found in Chablis. Look for the Vintners Select label to identify wines that explore alternative takes on our Classic productions.
"Noblesse" – Wines for days ending in "day"
Whole berry fermentation with less rigorous punch-downs, short-vatting, older barrels, and a variety of other winemaking techniques will yield a wine which is softer, more approachable, and ripe for enjoyment as a younger wine (without the need to wait for it to soften up through several years of aging). These wines are produced with "today" in mind, and are ready to open within the same year of release. They pair incredibly well with food, are fruit-forward, and exhibit softer tannins – all leading to the kind of wine which most of us are looking for after a long day: the kind that is ready now. When you're unsure of your guests' wine preference, not certain of which wine will go best with which dish, or just want something to massage your pallet (not your wallet), grab a Noblesse – it's sure to please.
"Black Label" – The Reserve
Limited availability, extraneous technique, and time-consuming production methods yield wines which simply cannot be produced on a large scale. These wines are reserved for our wine club members under the Black Label with the red "R", and can only be acquired by members of our wine club. Sur-lie aging and fermentation, single-lot vineyard selection, yeast trials and special attention…These are among the many unique winemaking techniques employed in the production of exclusive wines. Have we piqued your interest?
Login In to buy a bottle, Join Our Wine Club, or Visit the Winery and explore a Rappahannock Wine today!
Don't miss these other exclusive-production labels around the winery
New World Red

This Label was made specifically for the New world Red. A coast-to-coast family-to-family wine, it's a blend of our Virginia grapes with grapes from our relative's vineyard in Lake county (directly north of Napa)

Solera

A sun wine that has been put into big glass casks and placed on the roof to bake in the sun in the summer. Made in a very traditional Spanish Orzo style, another wine so unique that it has its own label.
Port-styled dessert wine
With the imprint of St. Martin de Tours (patron St. of wine) sketched on the label. We thought it was appropriate :)
Comments
Commenting has been turned off.
About Us
Recent Posts
March 22, 2021

July 10, 2020

March 26, 2019

(2 Comments)

February 18, 2019

(1 Comment)

December 26, 2018

(1 Comment)

October 30, 2018

(1 Comment)

April 21, 2018

February 14, 2017

October 26, 2016

October 1, 2016
Blog Categories
Our Writers
Blog Archives